Posted on
10 Years in the Sun – 10 Pivotal Moments in
Shady Rays History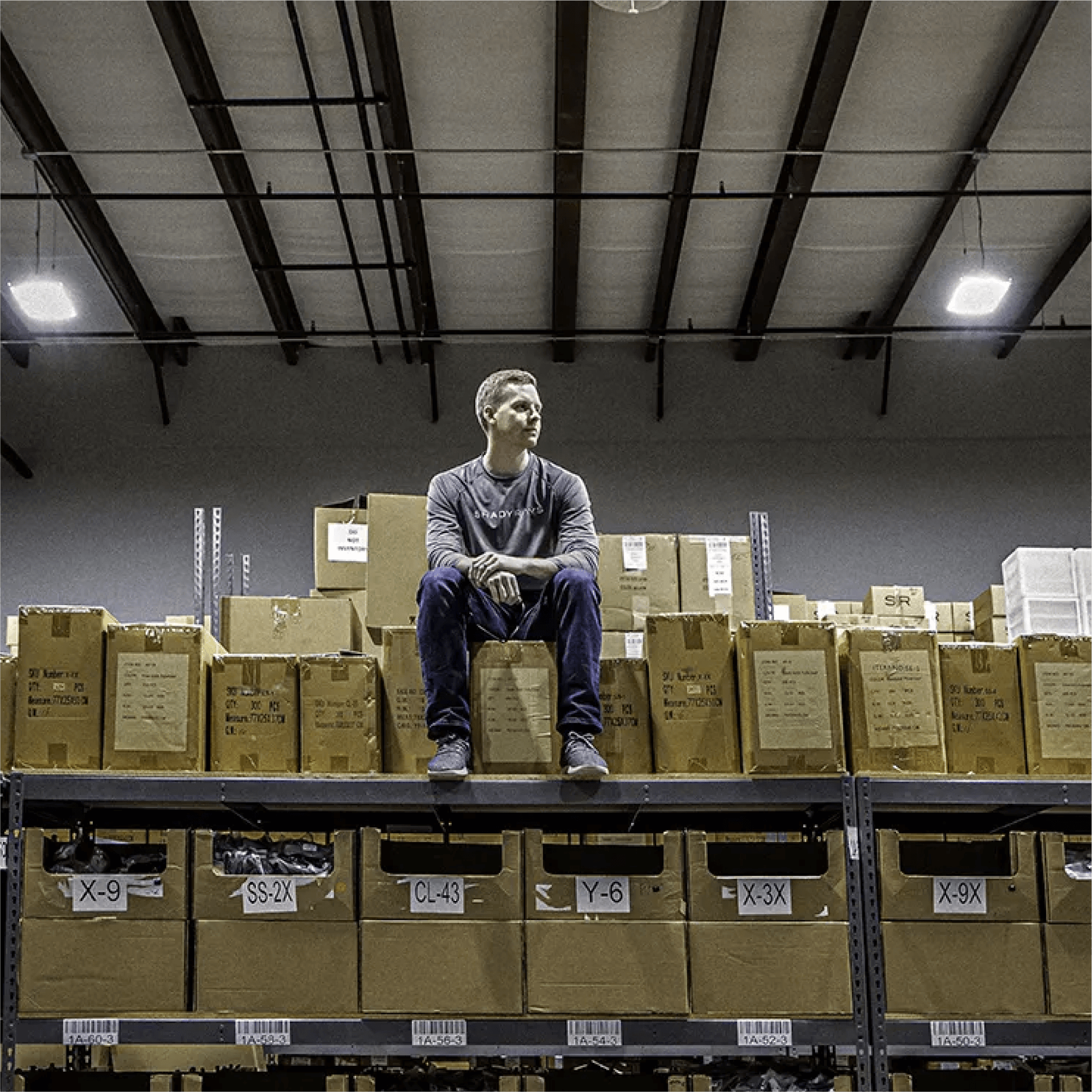 2012: Side Bedroom Project
Independent, American - Owned, Affordable, Worry - Free. Just a few of the things that would separate Shady Rays from the rest of the pack . In 2012, Shady Rays Founder Chris Ratterman took his knowledge for business and passion for sunglasses and started a side bedroom project that over the next decade would grow into one of the leading mid - priced sunglasses brands in the world. One of the very early core values of our brand was to test-test-test and not be afraid to fail to get to a place of success. No more losing or breaking sunglasses – especially the ones that are overpriced for the brand name alone. It was time for a change. Even in the face of adversity and early struggle, Chris may not have envisioned the success that was going to come, but the belief in what Shady Rays hardly wavered.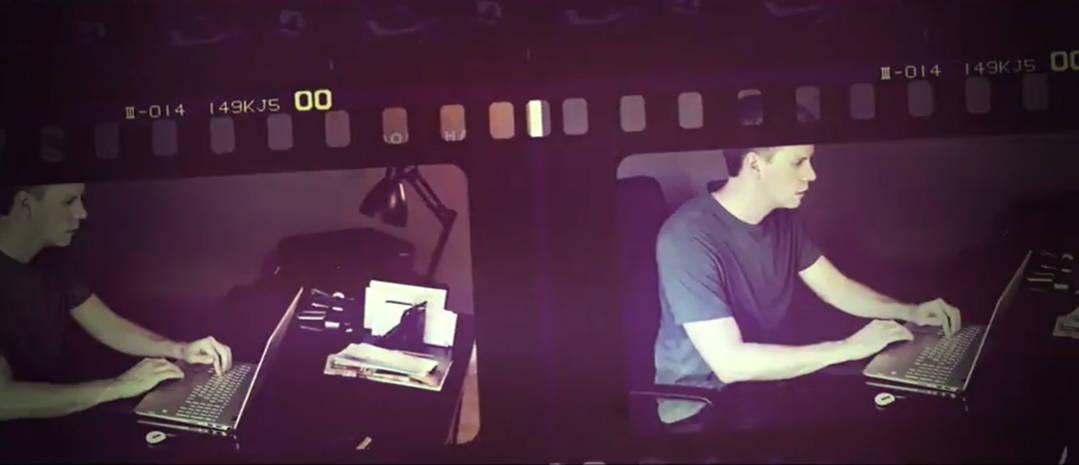 ---
2013: To the Great Outdoors
The early sunglasses samples couldn't quite show what the future held, but they did show a ton of promise in their polarization. As Chris was still dividing his time between his day job and his efforts to build Shady Rays, the help from his father Tom was instrumental in the latter. As the orders began rolling in, whether five a day or twenty, Tom would pack orders from a small shipping station in his basement and help Chris send them out to our very first customers. With point A to point B help from Chris' father and his brother Dan (now Shady Rays COO) selling Shady Rays out of a cardboard box at the University of Dayton, Shady Rays was and still is a true family effort.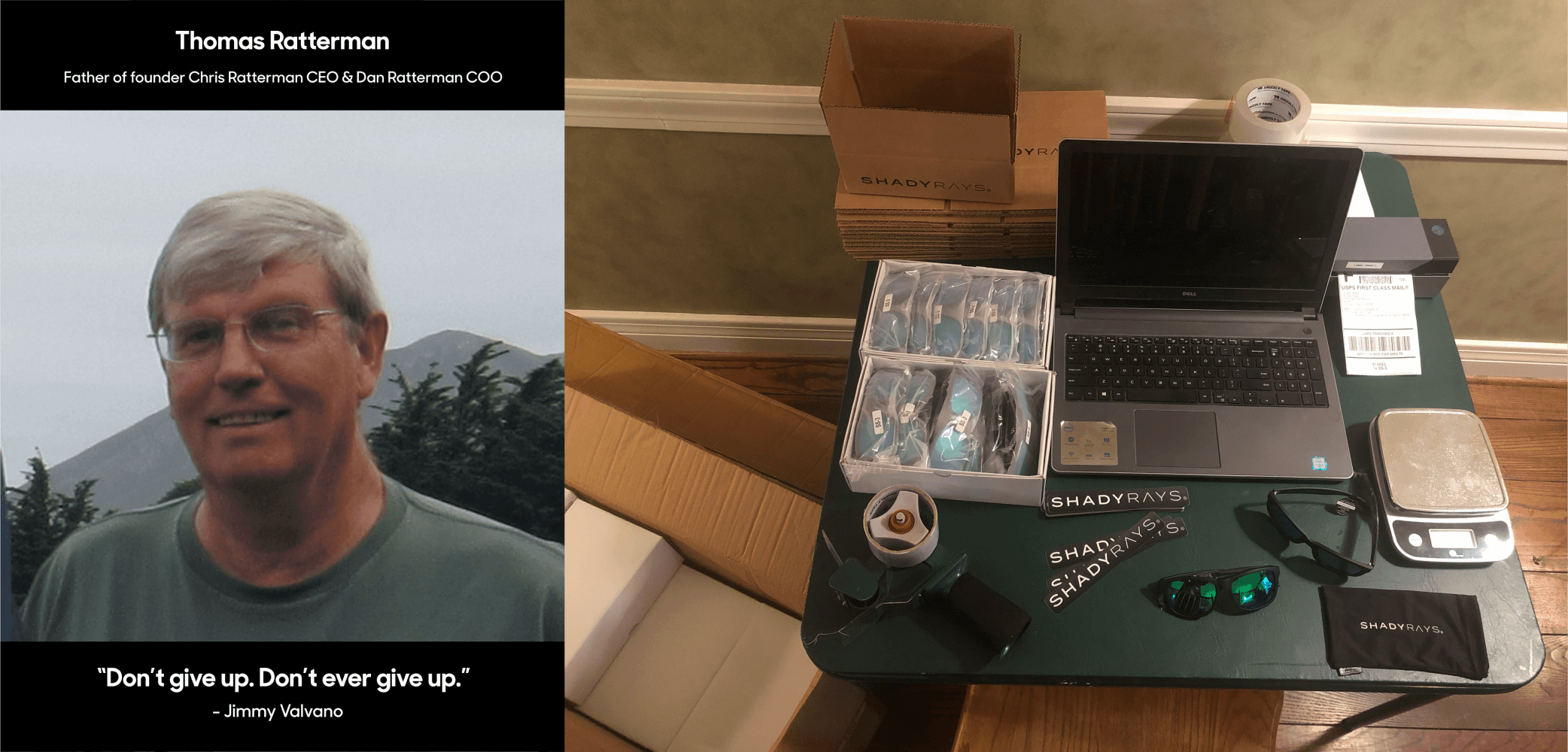 ---
2014: A Worldwide Introduction
Just word of mouth wasn't enough for our young brand; we needed the power and reach of a website to take things to the next level. Enter the world of e-commerce. In April of 2014, the very first version of shadyrays.com was introduced to the world. Headlined by our original cursive style logo, bold shade colors, and a shot at overpriced sunglasses, the building blocks were set to become what you see before you today. You have to start somewhere! With only a small online presence at the time, we were able to reach over 1,100 orders sold to end 2014.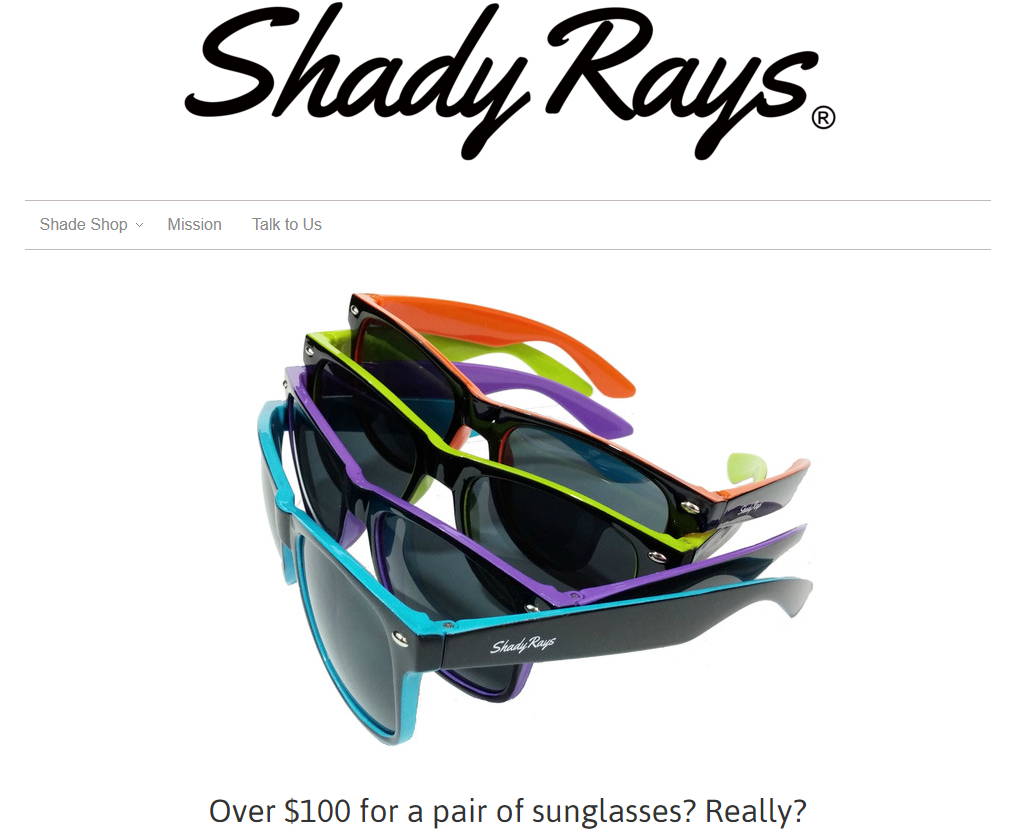 2015: Shady Rays Gets Social
In early 2015, our social media superstar James became the first official Shady Rays team member in efforts to grow our social channels. "I did a little bit of everything. My main job was finding content and writing copy for social posts but at times also included taking photos, working on an ambassador program, exploring outside sales, reaching out to influencers, and really any opportunity that came our way." This is just a small look on how instrumental James was for our organic social growth. From catchy captions to interactive giveaways, James has had the ultimate pulse on the brand since day one.

2016: A Classic in the Making
The original Rock Timber Classic was a hit, but we wanted to take things to the next level and build a frame that would define us for years to come. Enter the Classic Timber – a vintage style with wood-designed finishes that truly captured the rugged nature of the outdoors. This eye-catching frame would sell-out so often, that we had to offer a pre-order system just to keep up with the demand. For those that took a chance on a new, bold Shady Rays look, we are endlessly grateful for the movement you helped start.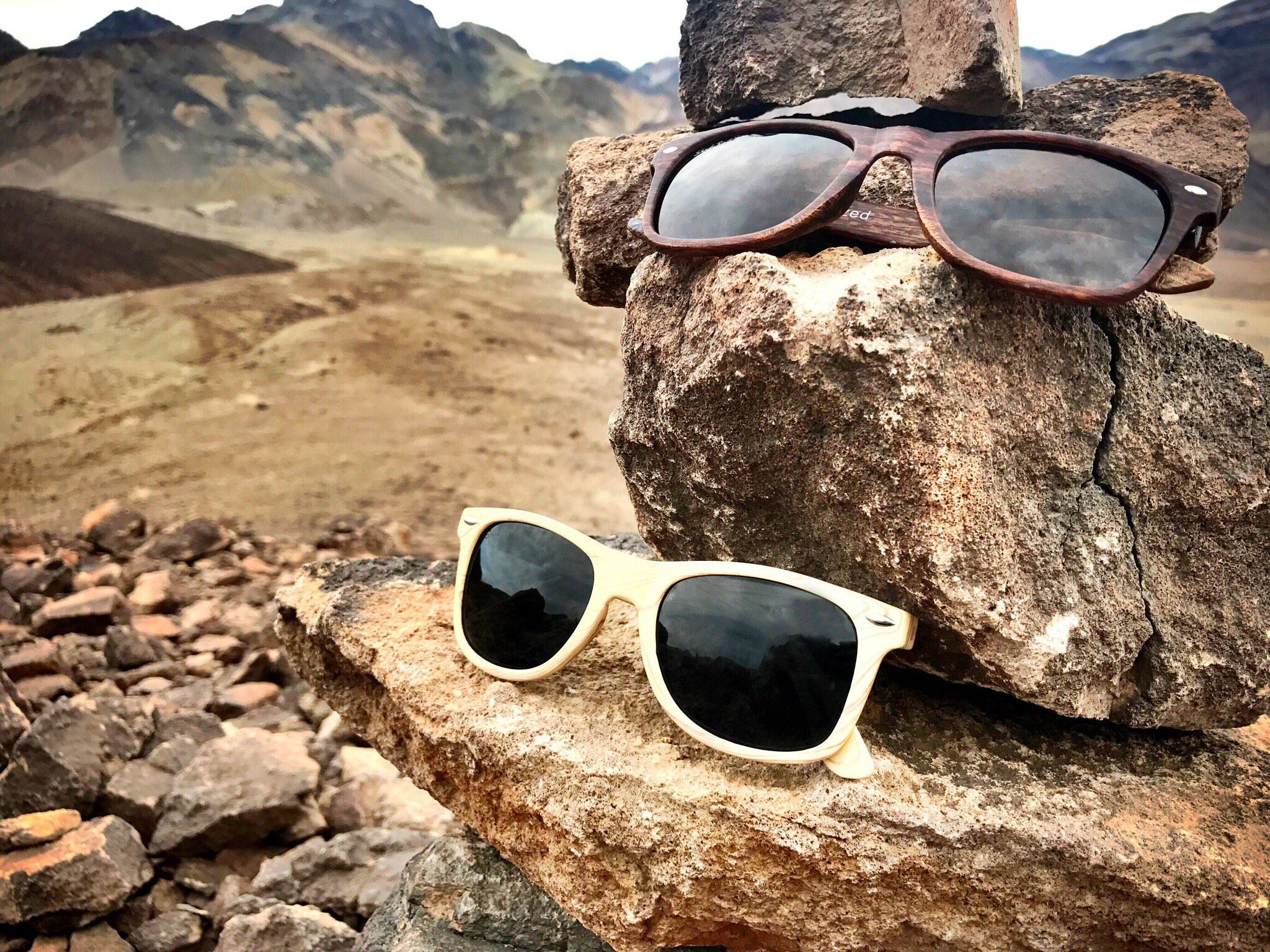 2017: 1 million Meals Donated
We always wanted to be the company that gives back through selling sunglasses. Through direct feedback and strong opinions from our customers, we felt joining the fight against hunger in America was the right move. Partnering with Feeding America, a nationwide network of over 200 food banks, allowed us to donate 10 meals through each Shady Rays purchase. In bringing new purpose to our work and providing a genuine incentive to our customers, we were able to donate 1 million meals by the end of 2017. This proved to us that real world change was possible through our passion – and we're still going strong.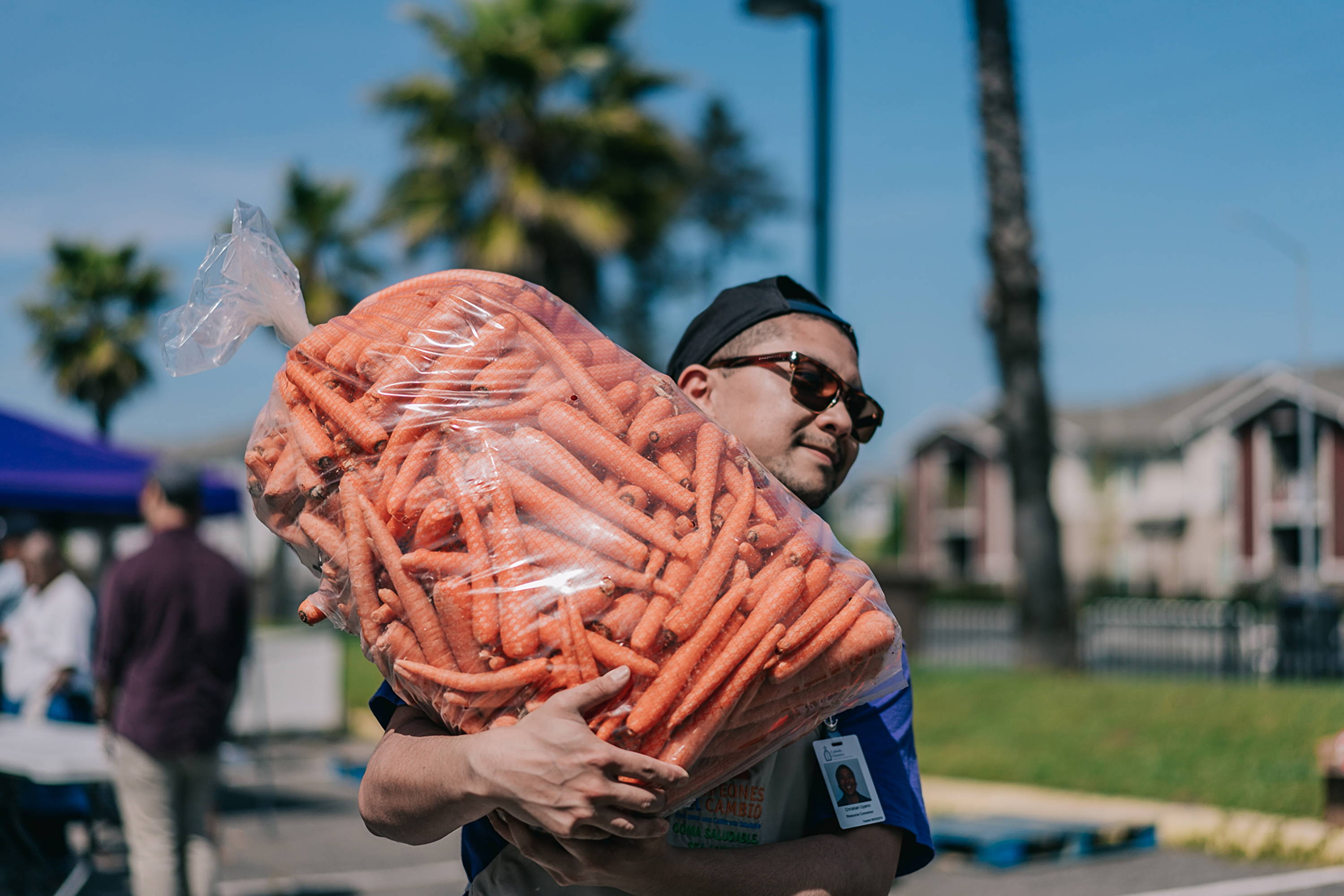 ---
With more eyes on the brand than ever, it became clear that we had to expand our selection for the growing number of women's customers. We answered the call in the form of what is now our best-selling women's frame to the date – the Allure. The Allure was a home run frame for those who wanted a blend of both sport and style. Not every addition to the women's line was a hit, we're looking at you Ocala Glow, but through additional collaboration between the team and our fans, it set the stage for the current lineup of oversized, trendy looks that you see before you today.


---
2019: Shady Rays TV Debut
In a move to further legitimize our brand, we tried our hand at a tried-and-true formula – the TV commercial. It was time for Shady Rays to meet the big screen. With a small in-house team at the time, we were ready to let the cameras roll and play our part. Shot in just a day at the brand-new Shady Rays HQ and local outdoor locations, we were able to create a 30 second short story that captured what made Shady Rays the best choice for those on the hunt for sunglasses. Not to mention, it gave some bragging rights to those who were already on the bandwagon. Featured on ESPN, CBS Sports, NBC Sports and more, we brought new shades to new eyes all throughout the summer of 2019.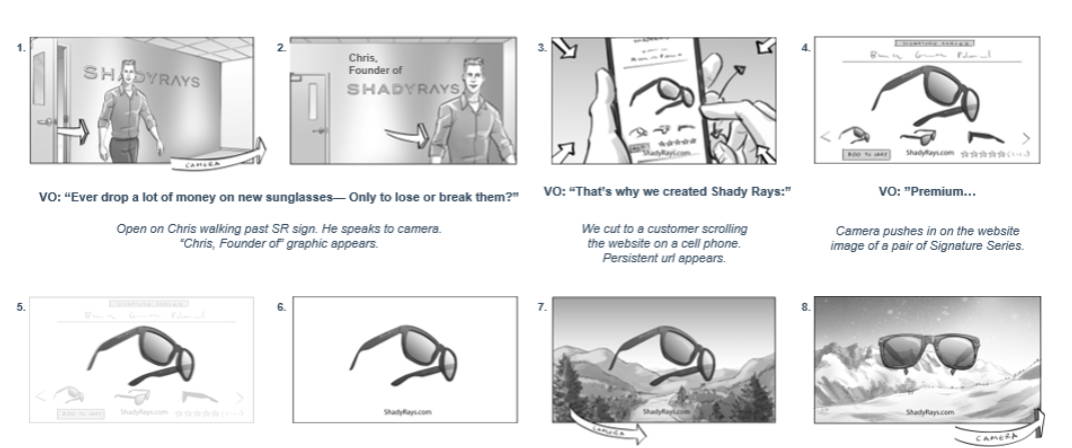 2020: An Unprecedented Year
In a year like no other, it took a true team effort to make an impact on causes that hit home for so many of us. First, in partnership with Feeding America, we were able to push our 10 Meals Donated Per Order donation toward the communities that were deeply affected by Covid-19, lessening the impact of nationwide produce shortages. In June 2020 and November 2020 respectively, we made donations to
100 Black Men of America in efforts to support social justice, and California Fire Foundation to provide natural disaster relief. As an Independent company, it's times like these where we can be nimble and answer a call to action to help make a difference in the world.

2021: Retail Grand Opening
With most retail stores reopening and the world entering a new sense of normal, we felt it was the right time to begin our in-store expansion. That meant bringing our first ever location to where it all started – our home state of Kentucky. After over a year of planning and designing, our flagship store opened in November 2021. For the first time ever, our customers were able to experience the brand in real life with a one-stop shop for buying, replacing, and exchanging Shady Rays. We are proud to bring retail to our roots, but this is only the start of something bigger. With a second retail location opening in Denver, Colorado in late 2022 and more on the horizon, we're so excited to bring our showcase to a location near you.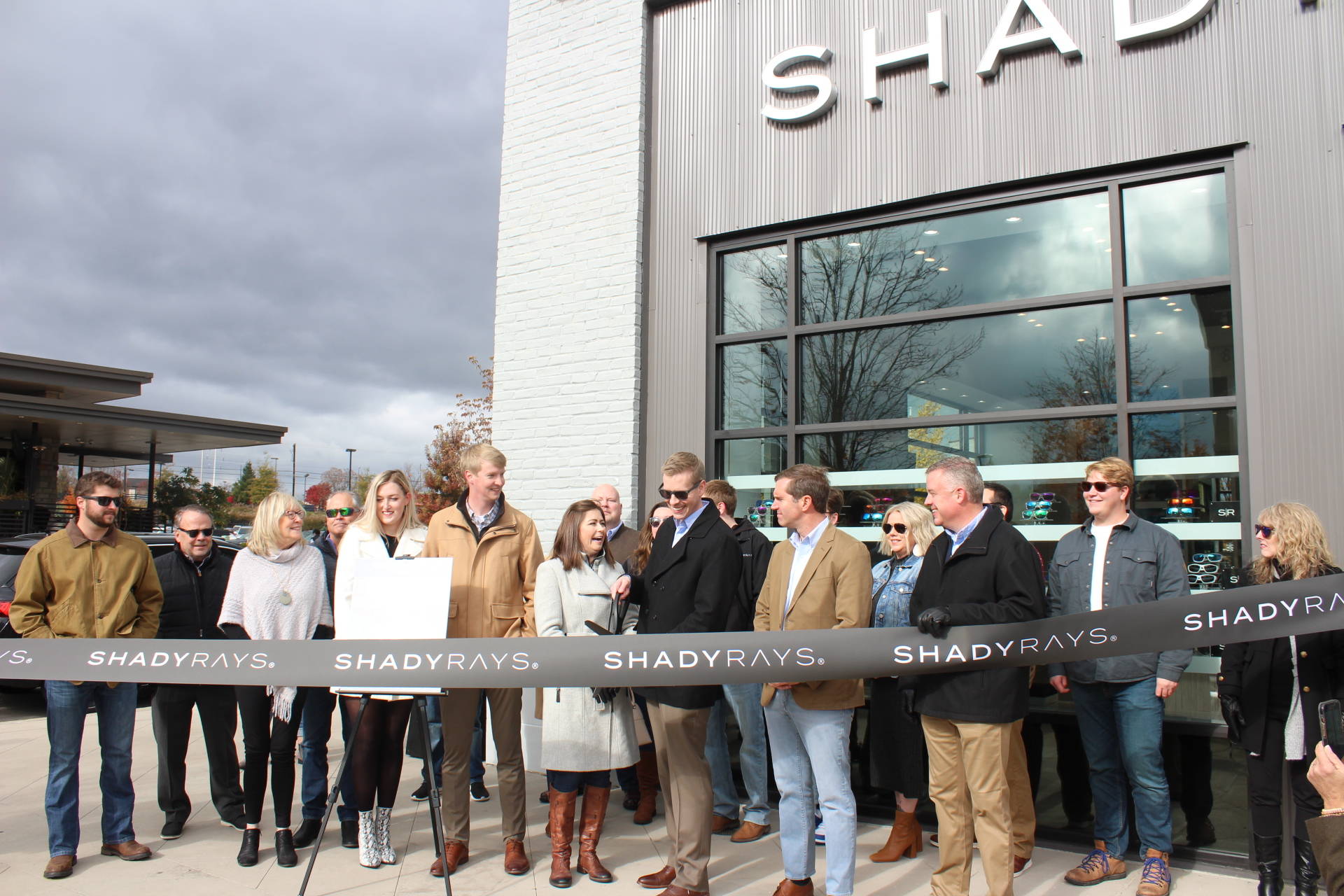 ---
2022: 10 Years of Shady Rays
"We set out 10 years ago to solve the problem of losing and breaking high quality sunglasses and what a journey it has been! Along the way we have built an incredible team and provided shades to our community of more than 2 million people. We love connecting with you every day and seeing how you enjoy life outdoors. I can promise you that we will continue to be obsessive about doing business the right way, being a positive force in the world, and having your back 100%. Thank you for allowing us to do what we do!"

– Chris Ratterman, Founder & CEO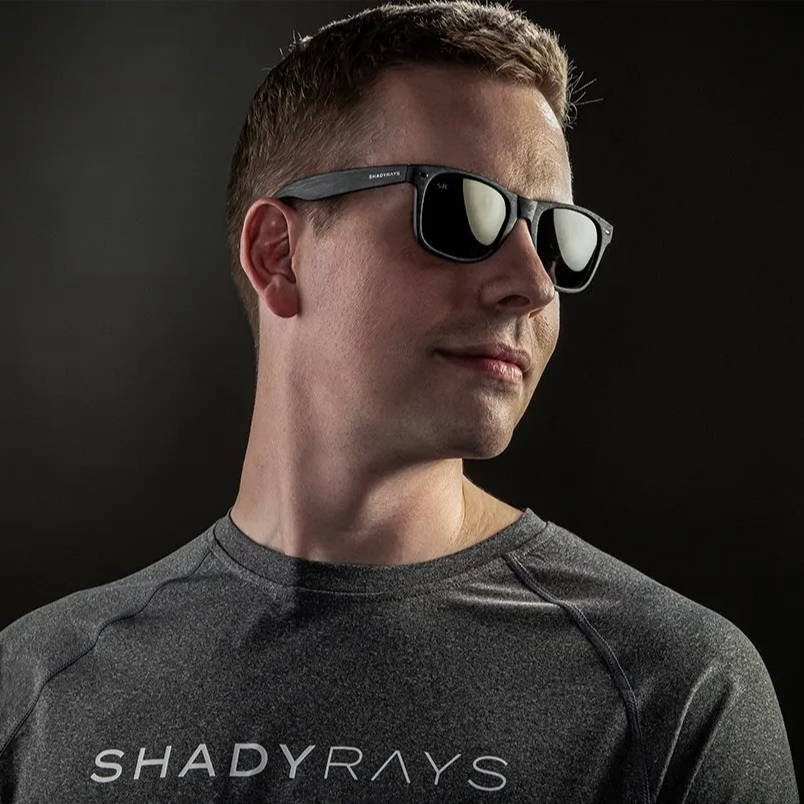 Here's to the next 10 years and beyond of Shady Rays!

---