Posted on
Six questions with
Dan + Matthew
Shady Rays COO Dan Ratterman and Performance Marketing Designer Matthew Keiser share their first-hand experience of the life-changing outdoor adventures provided by First Descents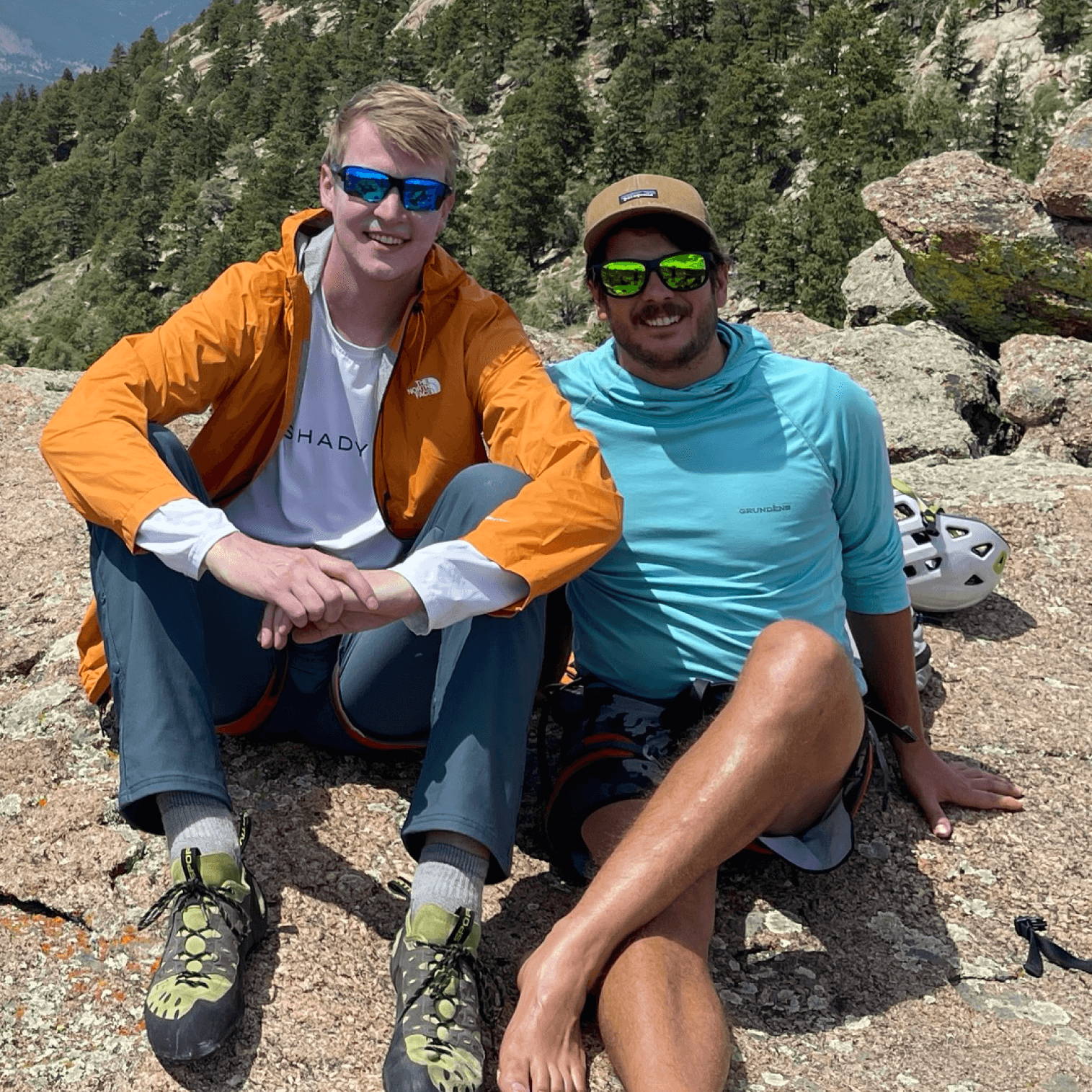 Those were the words that Dan and Matthew used to describe their First Descents experience. After serving as volunteers on a recent climbing adventure in Estes Park, Colorado, we sat down with them to learn more about their life-changing outdoor adventure with this Shady Rays Impact partner.
First Descents is more than just outdoor adventures. This Colorado-based nonprofit provides life-changing experiences for young adults impacted with cancer, MS and other serious health conditions. We're proud to call them a Shady Rays Impact partner and honored to experience the healing power that outdoor adventure has on these young adults during some of their most difficult times.
Now that you've experienced First Descents for yourself, what's something you want people to know about the organization and its mission?
DAN: First Descents is making a truly incredible difference for everyone involved. The transformations that the participants made in five days was incredible. Several participants expressed that they struggled to do daily tasks, but during the trip successfully climbed up the face of a 200-foot rock. First Descents does an amazing job creating this environment for participants to find these breakthroughs.

MATTHEW: The staff and volunteers at First Descents are truly there to facilitate an amazing experience for the participants. These participants come from all over the country in various stages of treatment and remission - each pushing the boundaries of what they thought was possible. The transformations I saw during my week were so inspiring.
What made the biggest impact for you, personally? A specific memory, story,
personal interaction…
DAN: When I went on the trip as a volunteer, I thought that I would mostly just be helping others. But as it turned out, I did a ton of climbing as well! On the final day of the trip, I was partnered with one of the participants for a two-hour, 200-foot, multi-pitch climb and subsequent repel. This participant expressed that due to a recent major surgery, she didn't think she would ever be able to fully use her arms or shoulders again. Climbing this rock with her was truly inspirational as she took it on without hesitation.

MATTHEW: The biggest impact for me was getting to know strangers on such a deep level. Having the participants open up to you with their struggles really puts life into perspective.

Climbing a mountain isn't the easiest thing you'll ever do that's for sure - but, for many of the participants on the trip it sure might be. What's something you'd like to share with the participants you traveled with while they are on their journey battling cancer and/or MS?
DAN: I was inspired by all of the participants. Seeing them embrace these climbs was extraordinary.

MATTHEW: I always thought of myself as someone who pushes boundaries and loves the struggle to achieve my goals. You (the participants) gave me great insight into the power of overcoming REAL obstacles in life. Your determination to step outside of your comfort zone was a true inspiration.
While the intent of the trip was to volunteer and help others, it turned out to be much, much more than that. What's something you learned about yourself during this experience?
DAN: I can do anything that I put my mind to. There was a moment where I was about 150-feet in the air, on a vertical rock, with nobody else in sight. I barely had anything to stand on or hold on to. And as I was feeling the rock for somewhere to stand or grab, it seemed that there was nothing available. In this situation, there is no option other than just keep finding a way to move up.

Ultimately I found a very slight angle to put my foot and trusted that my foot would hold. Against my better judgment, I trusted the grip, made a step straight up, and made it to the next level. This is a great lesson for life as well. There are many times in life where it seems like there is nowhere to go next and would be best to stop. But when stopping is not an option and the only way is up, it becomes vital to take a risk and find a way to keep moving. This is especially true when on the side of a mountain!!

MATTHEW: I learned that opening up emotionally can be a very powerful force to grow. I'm a mostly introverted person and during the week seeing the participants being open and vulnerable to a large group helped me realize the power of community and friendship.
How will you take what you learned during this experience and apply it in your day-to-day life? Does this change your perspective in any way?
DAN: I learned how important it is to trust the process. In many aspects of my life, I take comfort in having a good backup plan. When rock climbing, there usually is no backup plan. There is one plan and it has to work. When there is no back up plan, there is an unbelievable amount of focus and dedication required to ensure that everything happens correctly. This made it even more satisfying to successfully complete the most extreme climbs.

MATTHEW: I will spend more time practicing gratitude in my everyday life.
Anything else you're excited to share?

DAN: First Descents puts a big focus on the phrase "We Got You." I thought this was really cool, as it is part of the Shady Rays message. When supporting a climber, they use the phrase "We Got You" instead of "You Got This." When saying "You Got This," it implies that the person is on their own. But with "We Got You," it implies that we are in this together and it creates more encouragement and support for the climber. This was an awesome concept and brought even more meaning to the Shady Rays brand and messaging.

MATTHEW: I want to thank First Descents and all the staff and participants for letting me be a part of this experience. The work that you do is so important not just for participants but for everyone involved. These experiences help realign what truly matters in life and I can't thank you guys enough.